all about the concept
Check out our amazing projects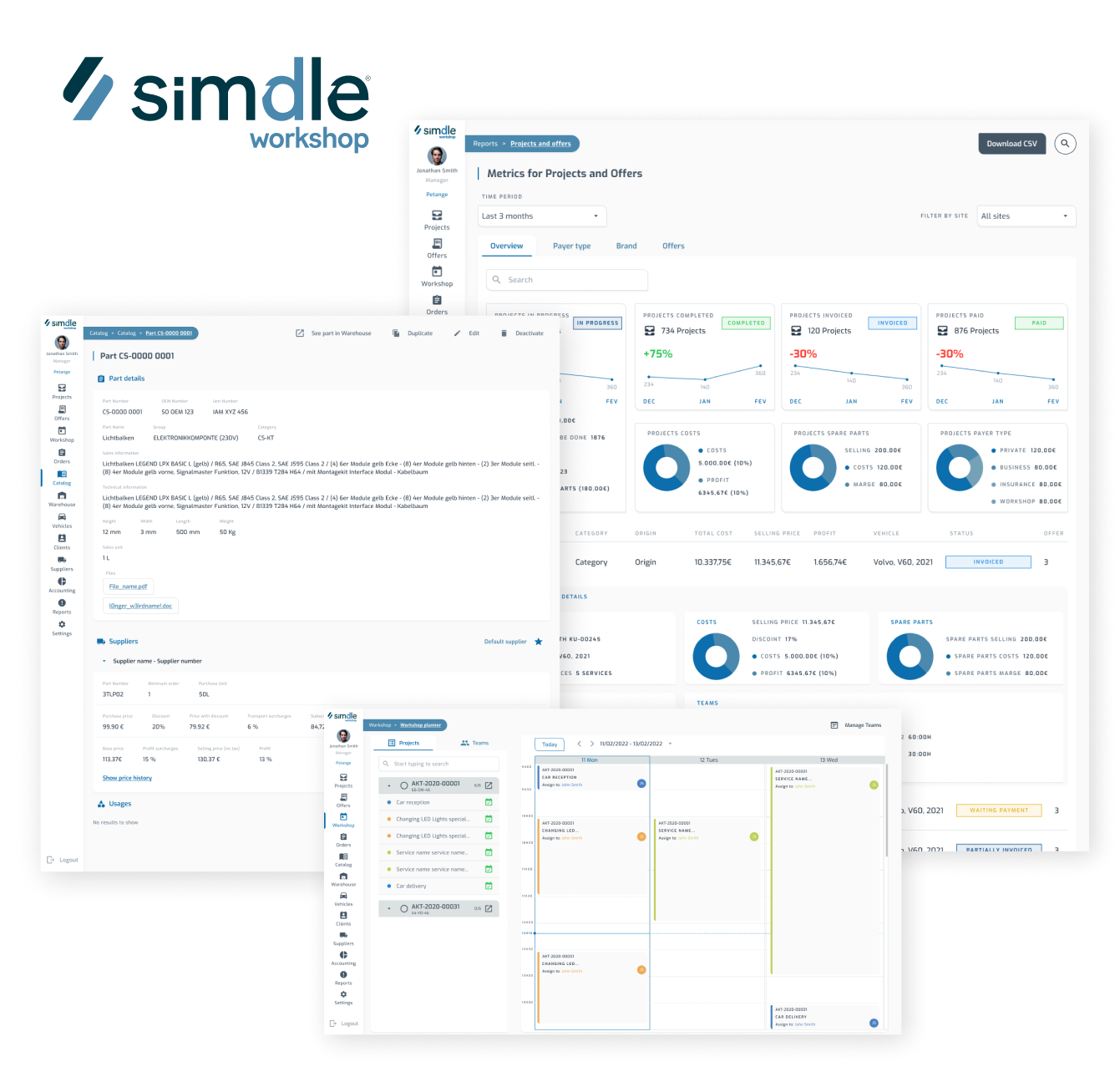 Simdle Workshop
Web
Simdle Workshop is a web-based user-friendly software for all after-sales and workshop processes, regardless of the age or brand of the car. From offers to invoicing, from team management to orders, suppliers, and stock management, with valuable insights on your data and performance. From the moment the car enters the workshop until the delivery, Simdle Workshop makes sure the user can detail and organize effectively every task and process.
More informations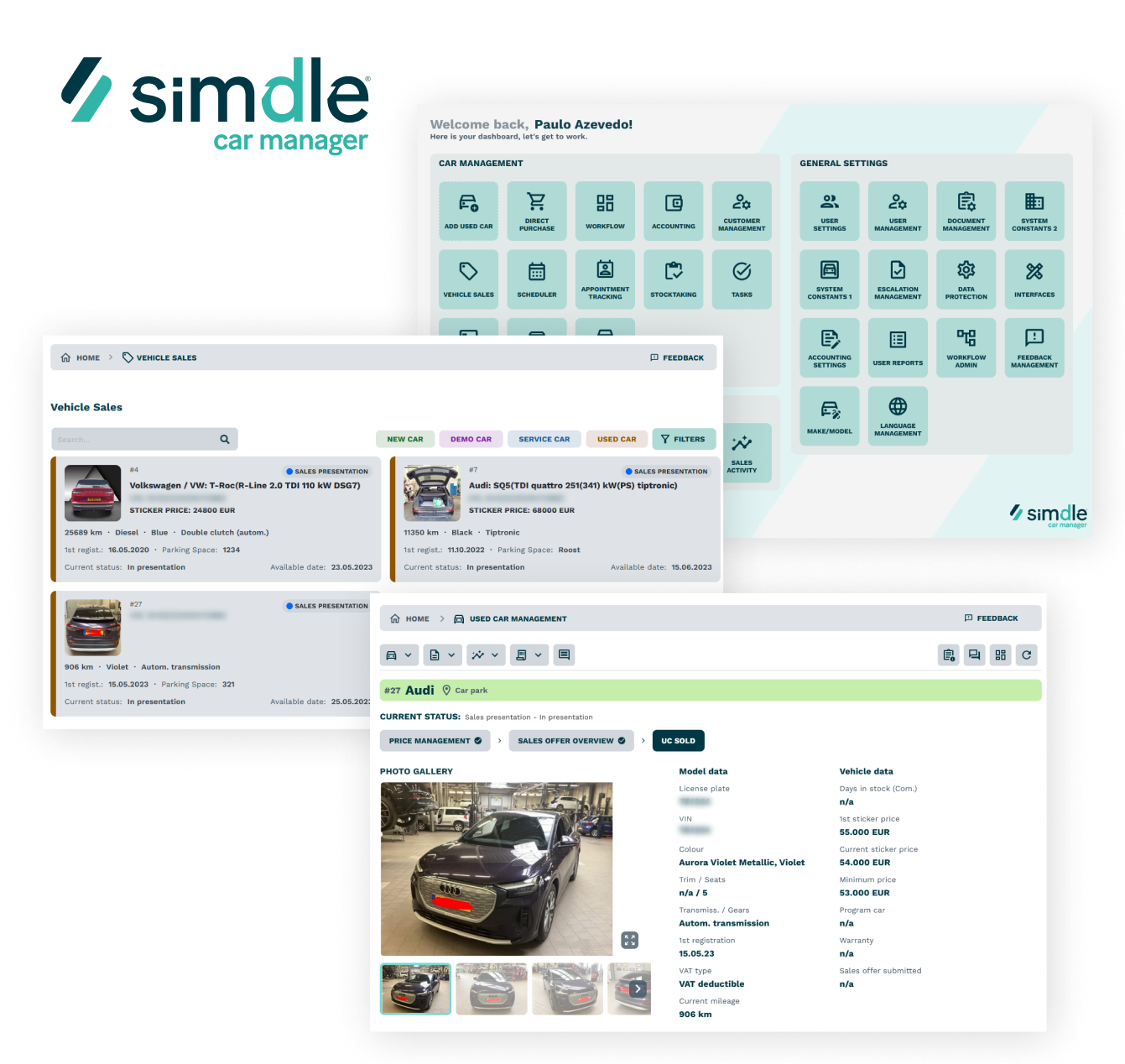 Simdle Car Manager
Web
Simdle Car Manager is a DMS (Dealer Management System) that can take over used car dealerships and turn them 100% digital. It allows users to manage the entire process for a used car, from the offer, through the purchase, inspection, and repair, until it is put on sale again, also including test drives and price offers.
More informations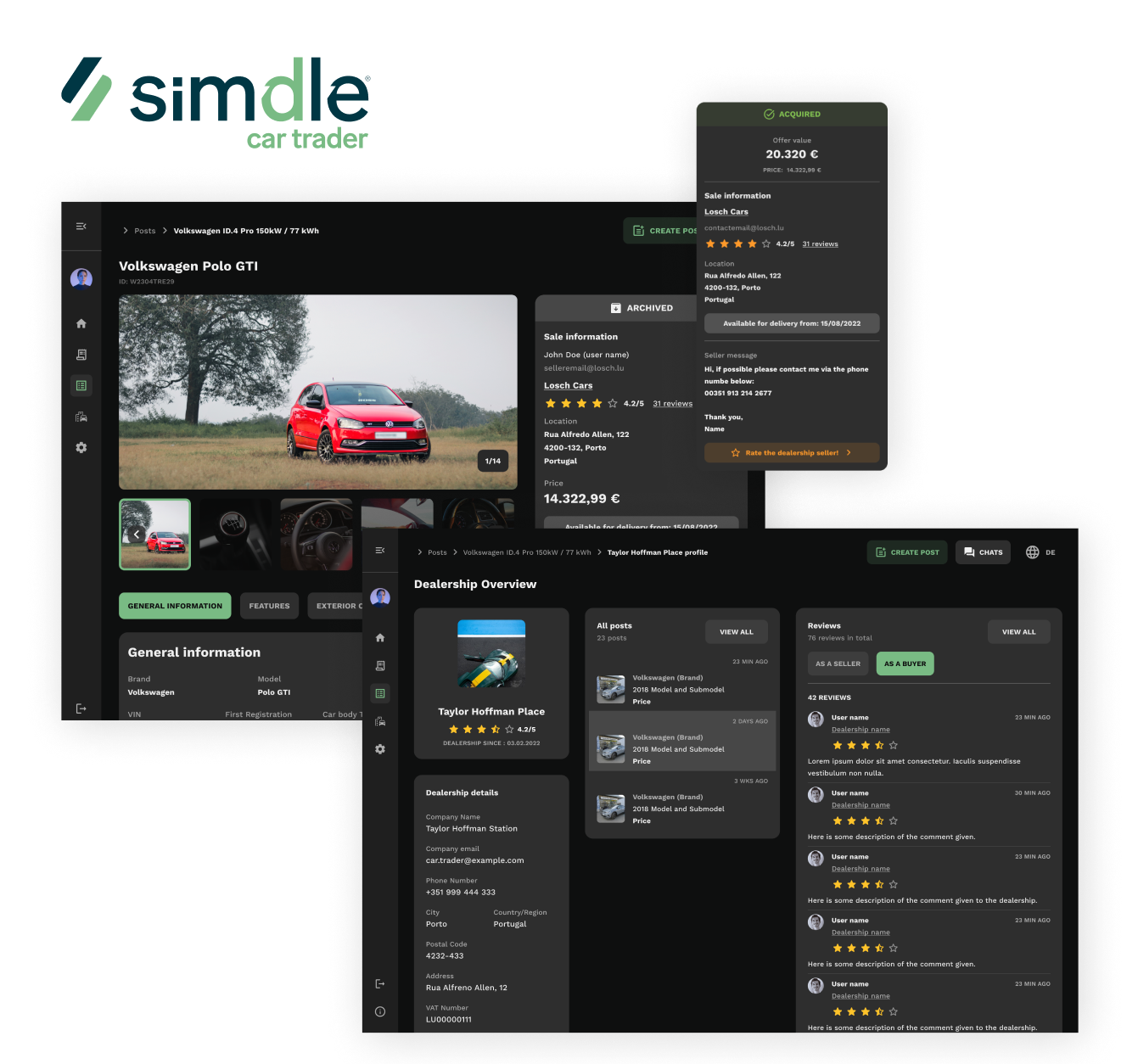 Simdle Car Trader
Web
Simdle Car Trader is a digital B2B platform that allows used car dealers to buy, sell or trade cars with each other. With an user-friendly design and easy to use and interact interface, Simdle Car Trader offers a complete solution for the used cars business.
More informations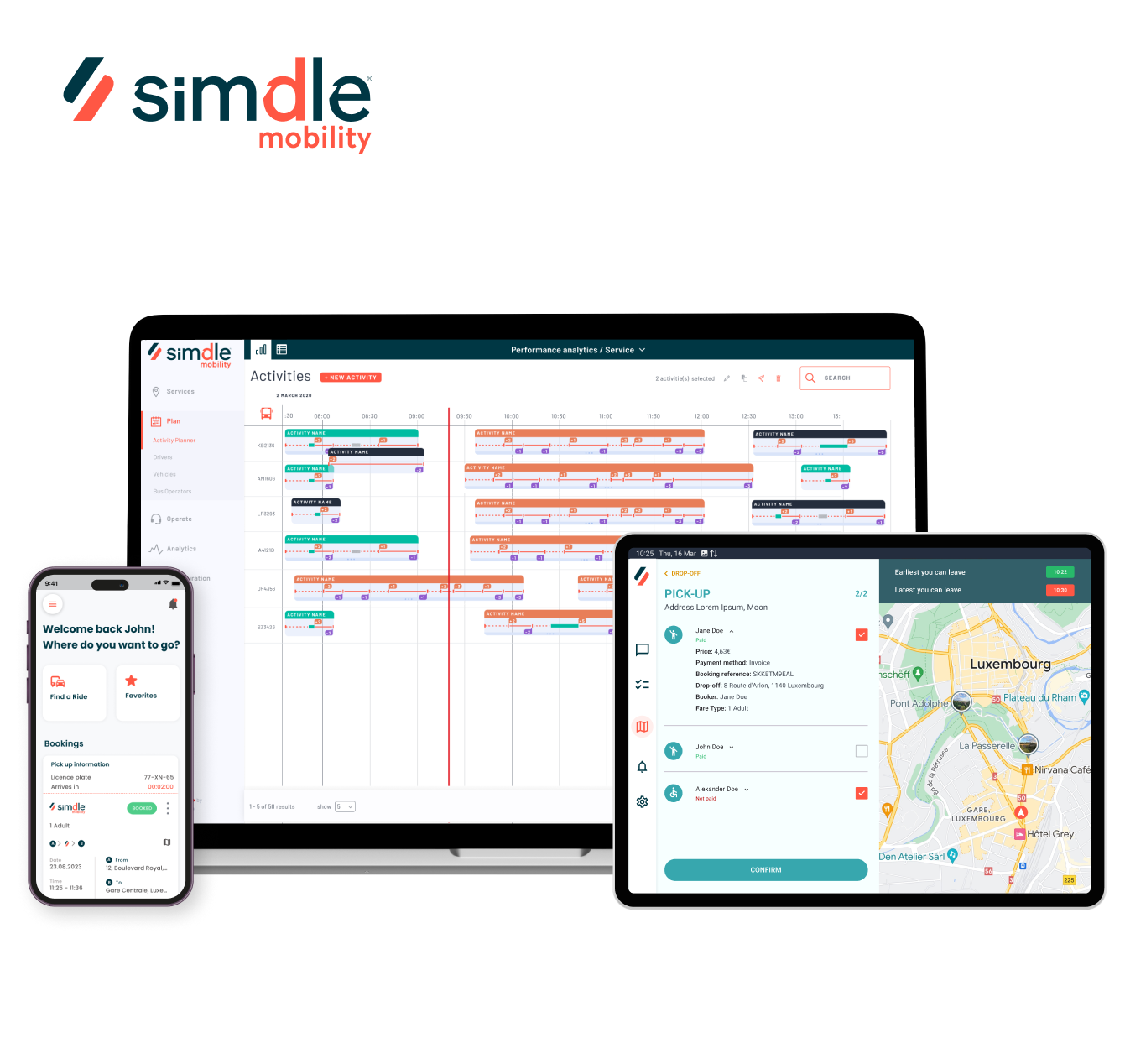 Simdle Mobility
Web | iOS | Android
Simdle Mobility is a versatile software for On-Demand Mobility that offers cities, transport authorities and operators state-of-the-art optimization of their transport resources. This end-to-end software solution consists of a passenger app, a driver app and a dispatching and controlling web interface which are all connected in real time. Simdle Mobility dispatches and pools both pre-booked and real-time requests automatically and allows for optimized shared transport in multiple use cases. 
More informations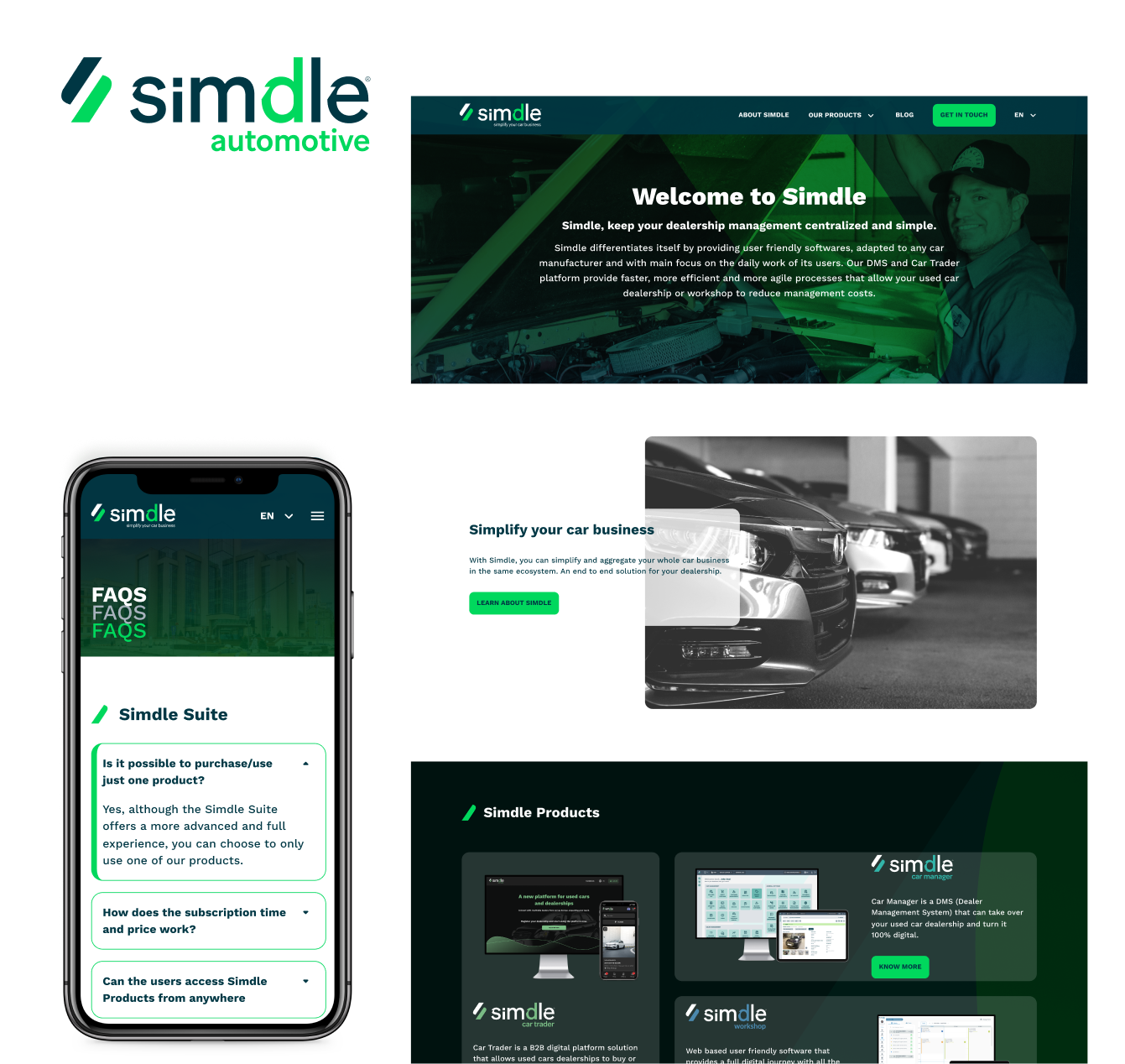 Simdle Automotive Website
Web
SEO optimised website for the presentation of the Simdle Automotive suite. Integrated with a CMS for quick and easy content management in 3 languages, and fully compliant with accessibility guidelines.
More informations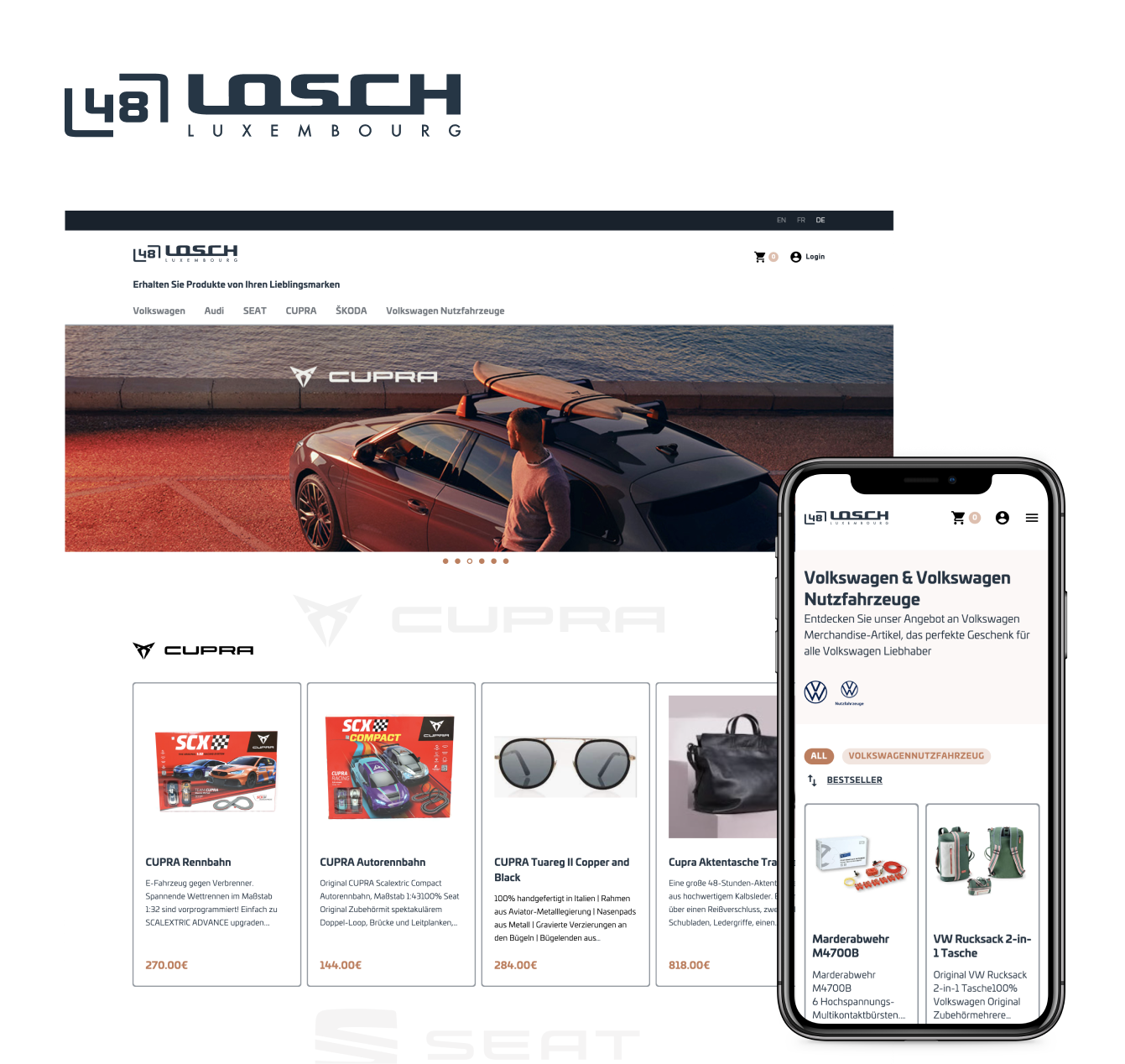 Losch Online Shop
Web
E-commerce website for all Losch brands merchandise. Allowing for all dealerships to sell from the same online page and for customers to pick up their order on their favourite Losch location.
More informations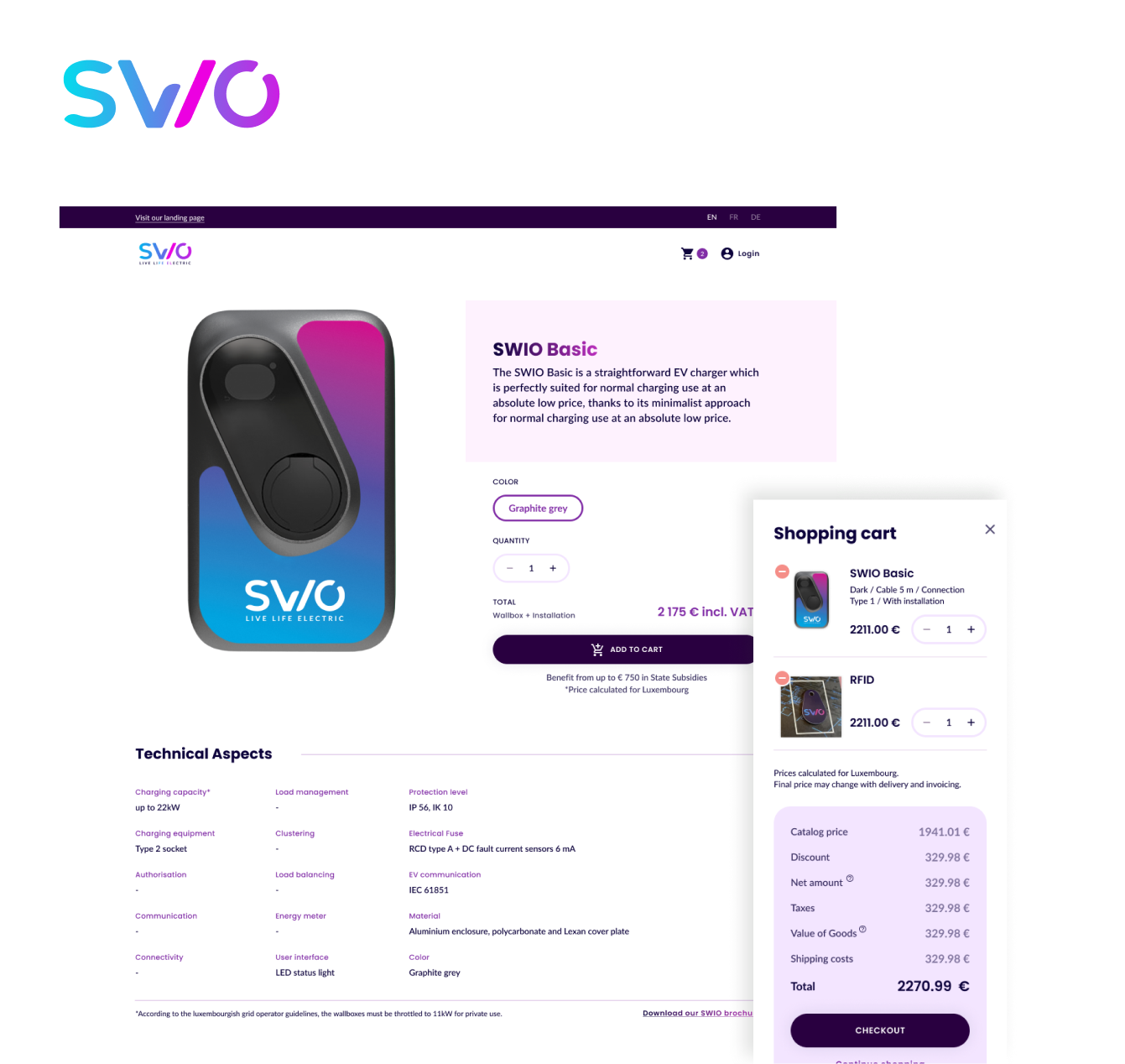 SWIO Online Shop
Web
E-commerce website for a new generation of EV chargers giving access to various products, order placement and live chat integration.
More informations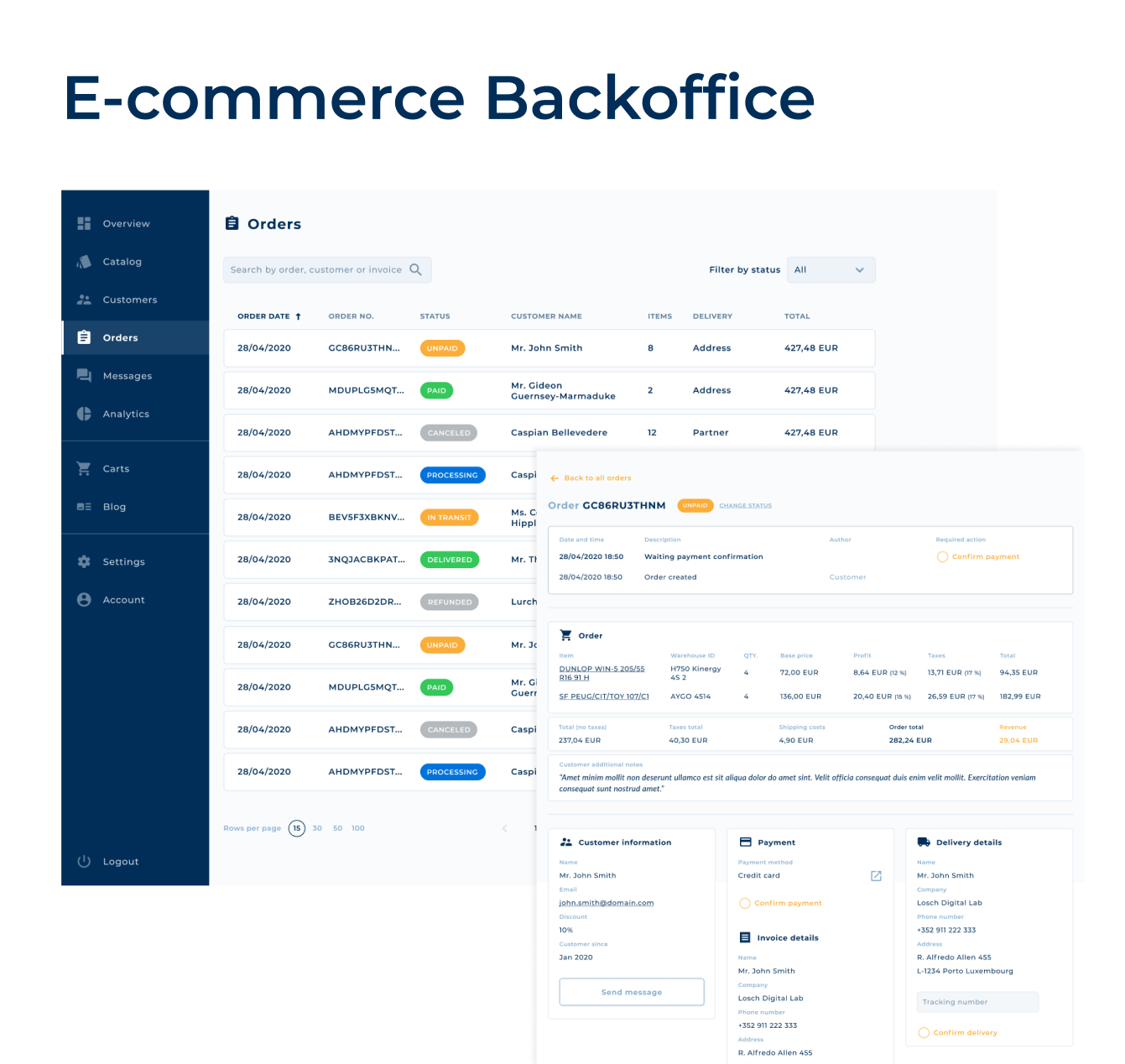 E-commerce
Web
A web platform created for online store management with access to catalog, customer, order management and analytics. Fully integrated with a customizable front office.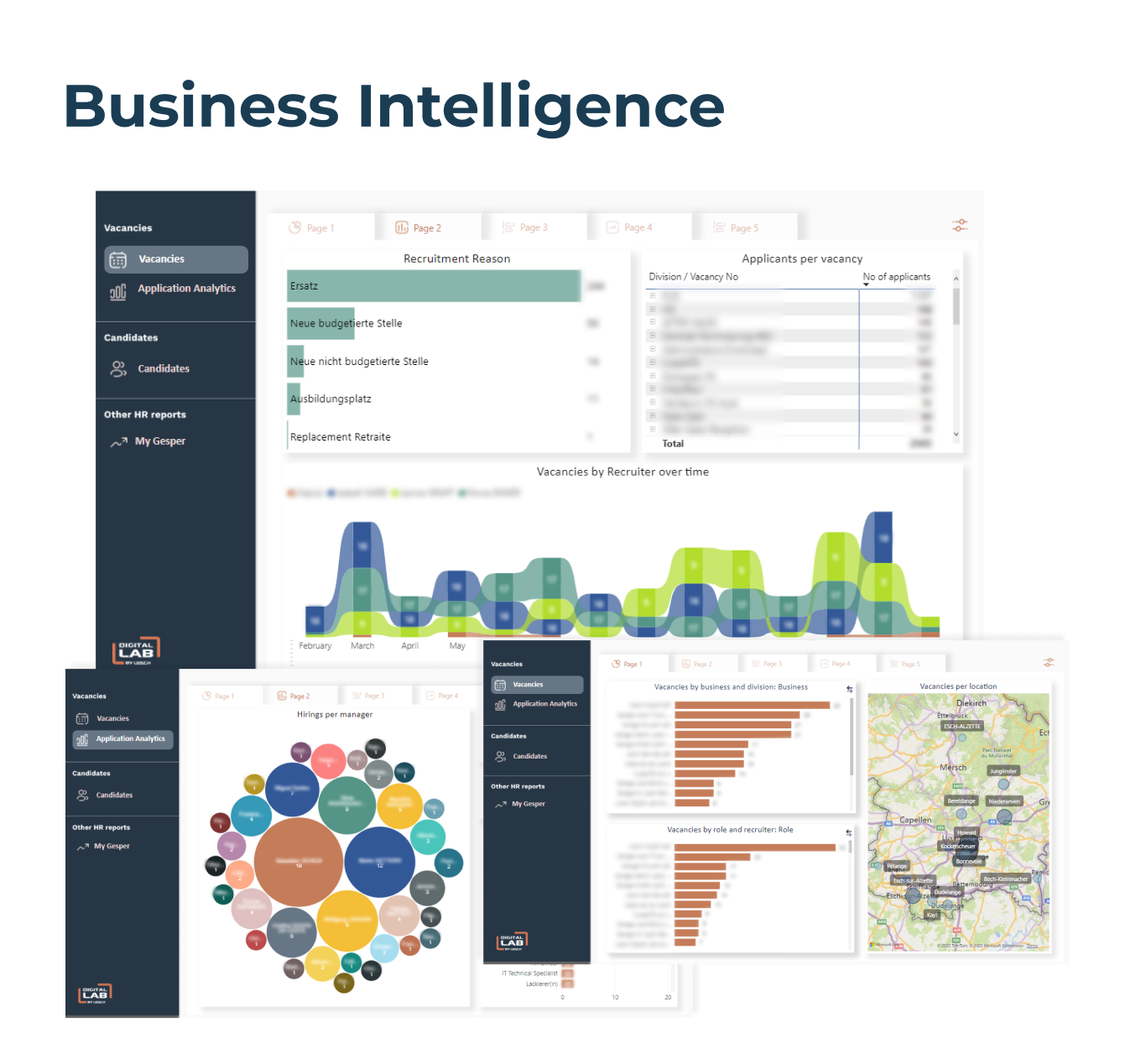 Business Intelligence
PowerBI
Platform for all Losch business units. Centralised reports for different business areas like new car sales, used car sales, services and spare parts stocks, sales and pickings.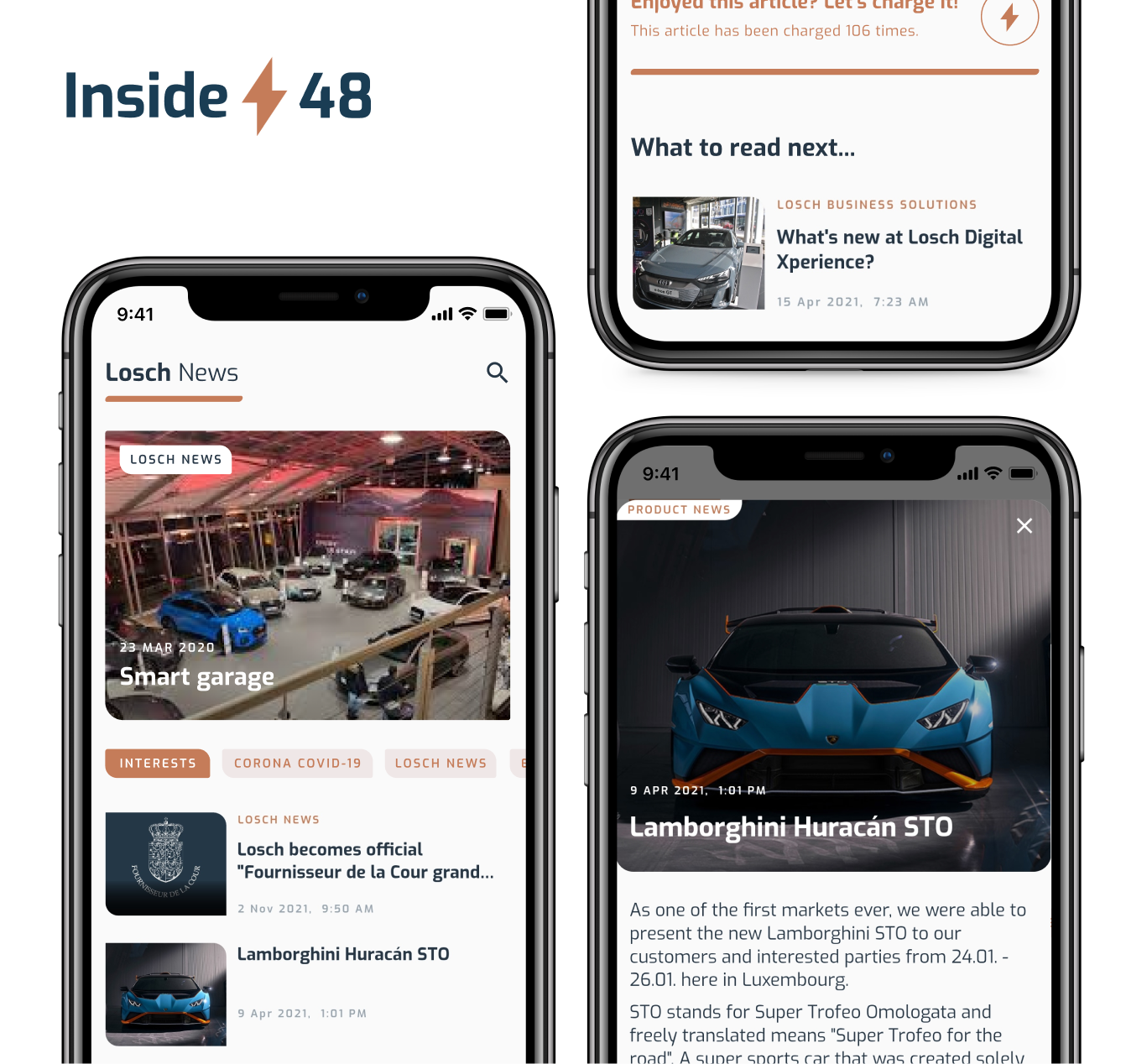 Losch Newsletter App
iOS | Android
This app was created to put us all a bit closer at Losch: all departments, all locations, sharing content, reacting, being a community.
More informations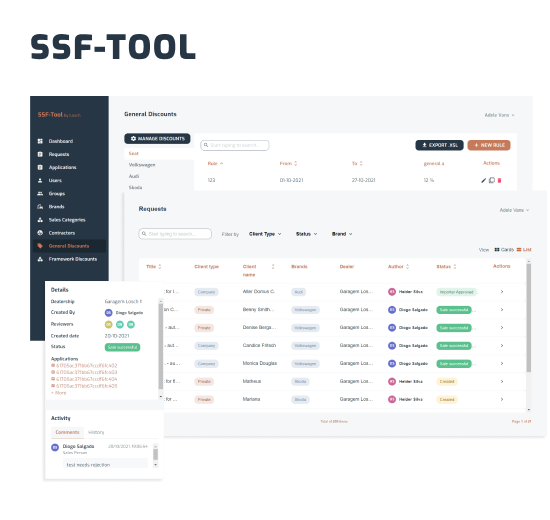 Fleet Discount Manager
Web
This platform allows to keep track and easily follow up the process of assigning discounts. It keeps the importer and the dealerships updated on each step of the process from the discount requested to the vehicles delivery.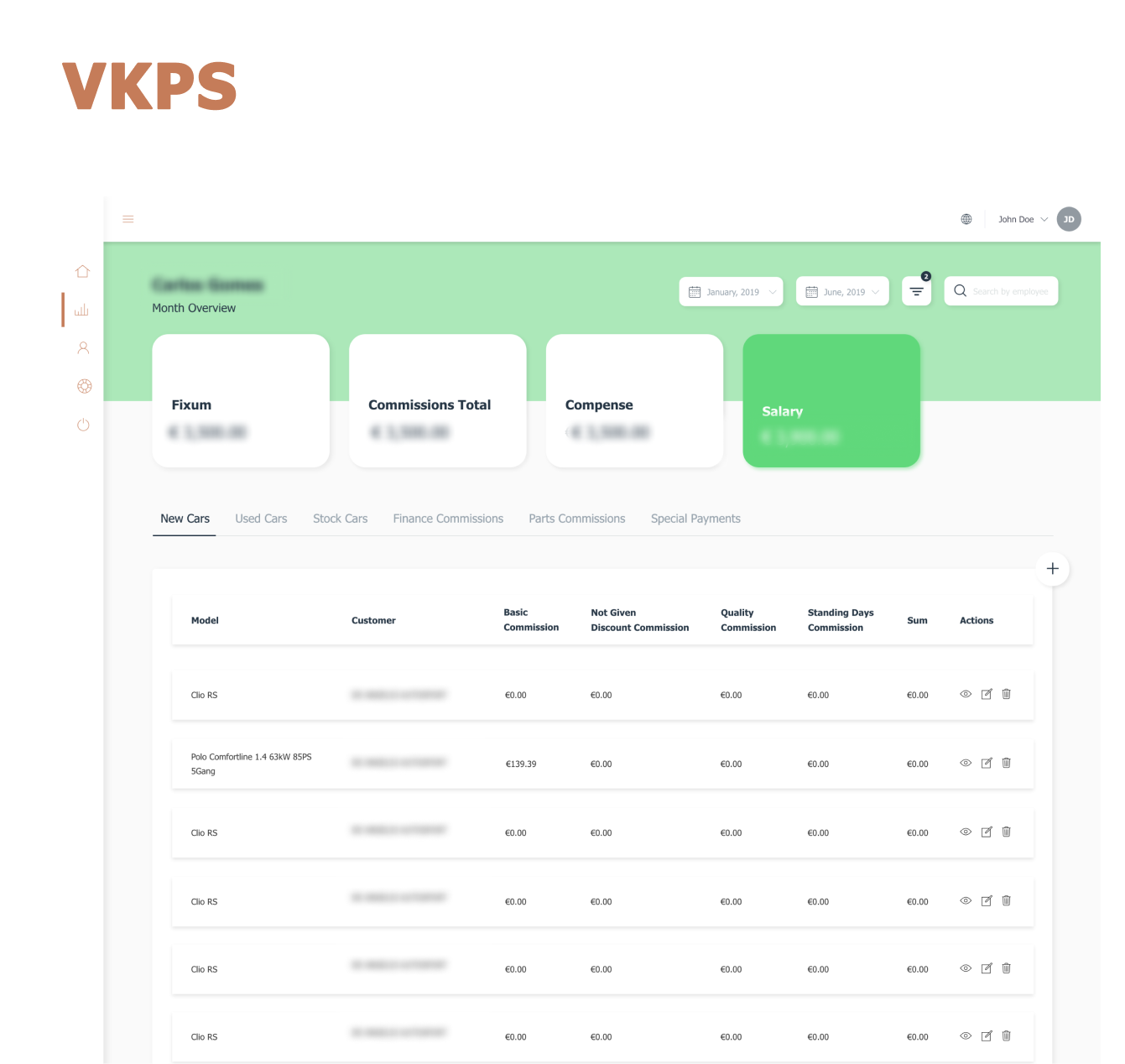 Commissions Tool
Web
This tool gives the options to generate salaries for each dealer, see commissions history and allow different levels of approval before payment.